Overwatch Collector's Edition is one of the best collector's editions for your PC.
Prices pulled from the Amazon Product Advertising API on:
Product prices and availability are accurate as of the date/time indicated and are subject to change. Any price and availability information displayed on [relevant Amazon Site(s), as applicable] at the time of purchase will apply to the purchase of this product.
Although it is a little late for me to talk about Overwatch Collector's Edition, but seeing how fast it sold out after the release date, I didn't get a chance to order mine until very recently. Needless to say, at about 80 bucks, the product is an absolute steal. Initially, Amazon was retailing it at a whopping $129, but the price got down somehow. For those of you who want to invest in a cheap PC game collector edition, now would be the perfect time to do so. A lot of 3rd party retailers sell them later after a few months at a decent profit margin.
I am personally an addict when it comes to collector edition titles. Some of other Blizzard Entertainment titles in my possession are Starcraft Wings of Liberty Collector Edition, World of Warcraft Collector's Edition and World of Warcraft Cataclysm Collector's Edition. Overwatch was next on my list dedicated figurines, and right out of the box, it didn't fail to impress me, not even one bit.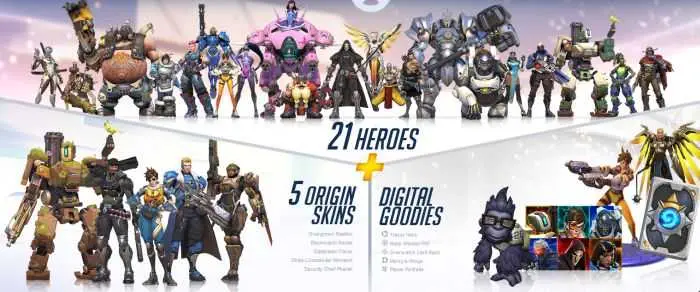 What's in the Box?
Oh, you mean, besides the gorgeous cardboard interiors and stunning appearance, the box has oodles of stuff to offer. I'd suggest you take your time and snap photos of first time unboxing to cherish these memories later. This CE comes with the following appended items.
(In my excitement, I may have missed a thing or two, so apologies in advance)
Exclusive Overwatch Collector's Edition Art Book.
Soldier 76 Statue.
Overwatch Soundtrack CD.
Separate Highly Detailed Art Postcards for Each In Game Zone.
Overwatch Collector's Edition Steel Book Case
Blizzard Entertainment Discount Code Vouchers, Guest Passes and Redemption Codes.
The fun doesn't just end at the physical accessories that come with the box. There are in-game goodies too, which you can get after redeeming your unique code. Just in case, there is a rare chance that you may not instantly get the in-game items. If that happens, please do not panic. Before you open up a support ticket, log out of the game and check back after a few hours.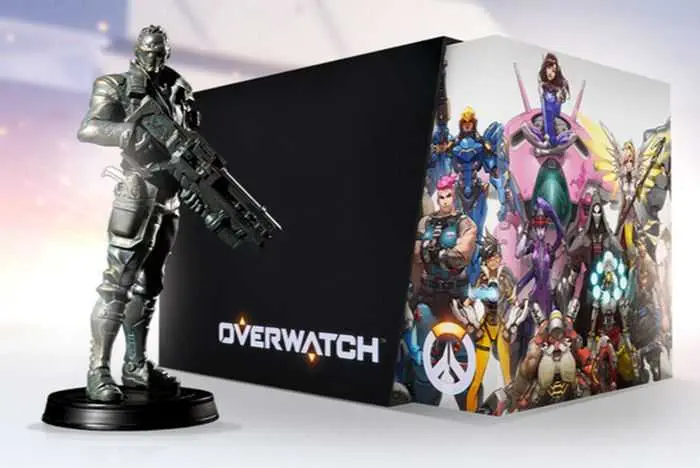 The Soldier 76 statue is one of the main highlights of the Overwatch Collector's Edition; it is gorgeous in every possible way. Unlike some collector edition action figures which are not well detailed, Soldier 76's visual appearance does justice to his reputation in every possible way. Despite the plastic build, the character feels heavy and has a faux metal patina to add to its glory. By default, the Soldier 76 Overwatch statue has no color. You can paint it if you want to perform a bit of artistry on your own.
Moving on, the artbook will offer you some insight on the development phase and various character & environment concepts. There is lots of text in there to brief readers on what went on inside the illustrators' minds when they were working on this project. The book itself comes in a weather resistant sleeve case, and the inside cover feels solid to the touch.
As far as the soundtrack CD goes, I did not bother opening its cover. I do not even insert soundtrack discs in the CD-ROM or any other player for that matter. Not a huge fan of removing these CDs from their jacket because most of the content is available online anyway. By the way, the CD has a booklet which lists all the soundtracks.
Overall, I am thrilled to have this collector edition. The Statue is peacefully sitting with his comrades on dedicated figurines rack in my apartment. If you are interested in some personal recommendations from my side, don't forget to buy Witcher 3 Collector's Edition, The Order Collector's Edition and Gears of War C.E; all of these editions are worth adding to your arsenal.
TFB Latest Posts
---
---