If you're looking for a good desktop for gaming the CyberPowerPC Gamer Xtreme VR Desktop Gaming PC might just be what you need.
Prices pulled from the Amazon Product Advertising API on:
Product prices and availability are accurate as of the date/time indicated and are subject to change. Any price and availability information displayed on [relevant Amazon Site(s), as applicable] at the time of purchase will apply to the purchase of this product.
CyberPowerPC has several desktop builds to show for. Some of them are excellent, while others are a little bit like "meh…" It is not for the lack of using high-quality hardware components in their custom builds, sometimes people don't make the right choices and end up complaining a lot. Usually, it is because they are ill informed, or are swayed by the product image on the internet.
The CyberPowerPC Gamer Xtreme VR GXiVR8020A2 is a medium range desktop computer that is ideally meant for budget conscious gamers/ professionals. Do not expect any ultra-quality graphics or a rich gaming experience from this PC. However, it is a remarkable product in its own league.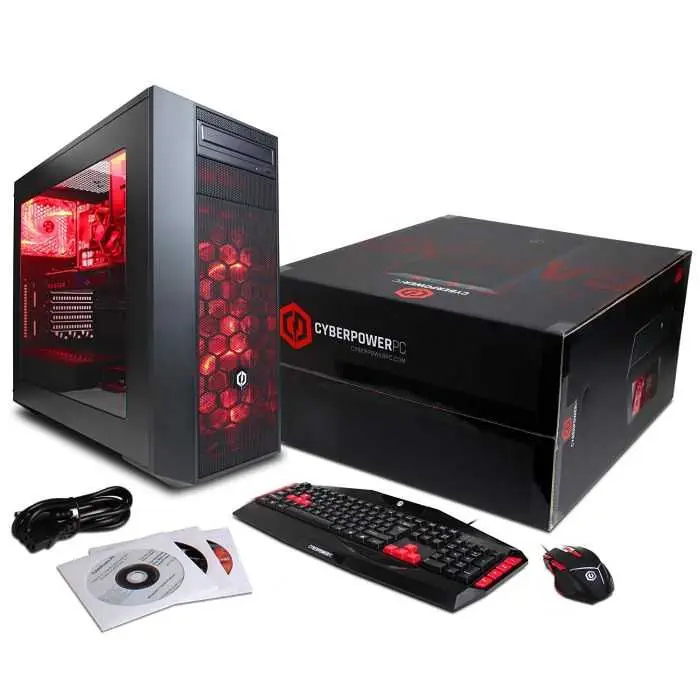 What's Under the Hood?
I'm glad you asked that. For a little over $700 at Amazon, this PC boasts of essential hardware which can easily run most of the games at medium details setting. The following peripheral is encased within the exclusive CyberPowerPC casing.
Intel i5-7400 3.0 GHz Quad Core CPU, 8GB DDR 4 RAM (*Upgrade Possible to 2400 MHz RAMs), 1TB HDD @ 7200 RPM, Standard DVD RW Drive, Windows 10 Home Edition.
AMD Radeon RX 480 GPU.
USB 3.0 Ports X 6, USB 2.0 Ports X 2.
Exclusive CyberPowerPC Gaming Mouse and Keyboard.
The system also supports standard RJ-45 network LAN cable for you to connect any wired modem/router. I do not have any use for the LAN or Ethernet cable port because I use a wireless dongle for my internet. If your internet is wired, there's no harm in using the port available on the back side of the casing.
Moving on, the keyboard & mouse combo is more of a freebie product; it has nice visual designs that advertise the company's logo at the top/ front side. If you do have some extra cash, you should invest in a better keyboard and mouse. This one will not last long in your day to day gaming endeavors.
Will it Run any Games?
Yes, it will. The Radeon RX 480 should be more than enough to run a couple of RTS, FPS, and point & click titles at medium details. Also, if you happen to have a steam/ origin account, don't forget to buy "Inside," "Black Desert" and "Conan"; they are pretty GPU friendly because of the online connectivity. The developers want a maximum number of players to be able to try the MMORPG experience. By the way, Inside is not an MMORPG, but I mentioned it because of its compatibility with the graphics card.
As far as the GPU itself goes, feel free to replace it with a Gtx 1070, 1060 or a decent 1080. You can invest in some additional supplies as per your budget. My initial suggestion would be to buy this computer first, and then change the hardware gradually as you save money on the side. At the time of placing the order, you can leave a message for CyberPowerPC guys to change the GPU to a Nvidia equivalent.
The Virtual Reality Part:
In case you didn't notice the VR in the Gamer Xtreme VR GXiVR8020A2 title, it stands for virtual reality. Now, wait and hold on to your hats because this unit does not come with any HTC Vive or Oculus Rift VR headsets. CyberPowerPC only means to say that their computer is compatible with a variety of VR gear right-out-of-the-box. You will have to make additional purchases as your budget allows.
On the up side, this build will come with a free USB thumb drive wireless networking card. You can plug it into one of the USB 3.0 ports for fast performance. There are also several extra power cables to connect to the system's PSU. The company added those to help you easily upgrade the system in the near future.
Overall, it is a decent purchase as far as the money goes. If you happen to have a kid or two who have been yanking at your shirt for a computer lately, go ahead and check out Gamer Xtreme VR GXiVR8020A2. It is a little cheaper as compared to building your own computer within the same specs range.
TFB Latest Posts
---
---