This article may contain affiliate links. If you make a purchase, we may make earn a commission at no cost to you.
TFB Short Clips
Originally posted on May 29, 2017 @ 7:58 am
Get rid of huge old wallet and have a look at the Tonly Monders Genuine Leather RFID Blocking Men's Slim Wallet
A slim, RFID blocking genuine leather wallet for under $10 easily translates to 'sold' for most. This Tonly Monders wallet is one you want as your everyday. The construction is premium quality as is the material (you can't get much better than leather), and the overall craftsmanship is worth appreciating.
Use the wallet a few times and you'll see that it has more to offer than its classic, minimal design. You can transfer all your important cards, cash and other junk to the wallet and it remains slim so it can fit comfortably into even the tightest pant pocket or the breast pocket of a sports coat. The wallet offers more than enough space for the basic necessities. However, if you're one of those people who carry a lot of change, you may run into a problem but who really carries change these days?
You can also tell that the leather is high quality. All indications point to it being genuine leather and not faux leather treated with chemicals in a sad attempt to fake that real leather smell. The exterior is soft, flexible, has the varying grain, texture and is durable. In fact, the durability impressed me. It still looks new despite having a few unfortunate run-ins with my keys (no scratches are visible) and has yet to develop that worn look around the edges.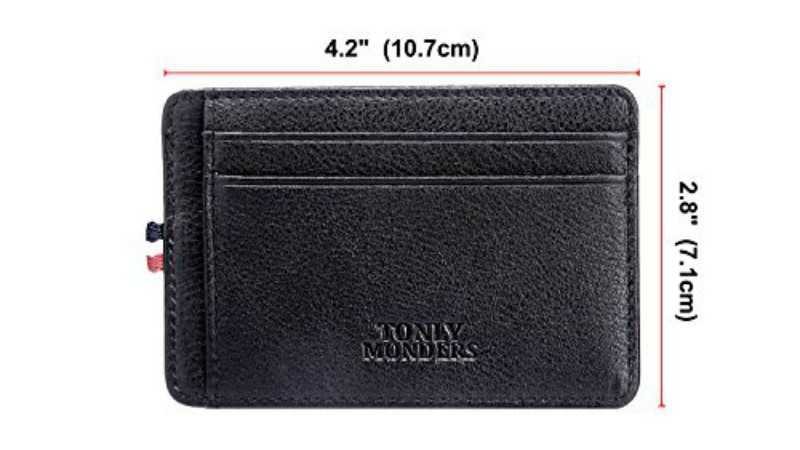 You'll find some other things worth mentioning below:
Attempted to use a bus pass on public transit while it was in the clear slot of the wallet and it didn't work. As I made a few attempts the driver rolled his eyes but I had to test it out.
Wipe with a damp cloth and you're done.
Doesn't leave that wallet outline.
Yeah, I've already covered how slim the wallet is, but no wallet outline in your back pocket is something worth mentioning. That odd distressed effect larger wallets have on jeans especially is impossible to reverse.
So, if you need a new wallet, get this one. Even if you don't, get it anyway. Minimal wallets are the way to go and will stop you from carrying around all those gift and rewards cards you never use.
TFB Latest Posts