This article may contain affiliate links. If you make a purchase, we may make earn a commission at no cost to you.
theFunnyBeaver Clips
3 Best Racing Drones
If you're ready to take your drone game to the next level, it's time to get a pair of FPV goggles. FPV goggles (FPV stands for first-person view) will give you the exact picture your drone sees. It's an immersive experience and lets you feel as if you're the one in the air. And to help you make the right purchase decision when looking at these gadgets, we've compiled a list of the 3 best racing drones with FPV goggles. Each drone profiled here is recommended for medium to expert flyers. They each come with everything you need for perfect flight including HD camera, goggles, remote controller, manual, and more.
Walkera F210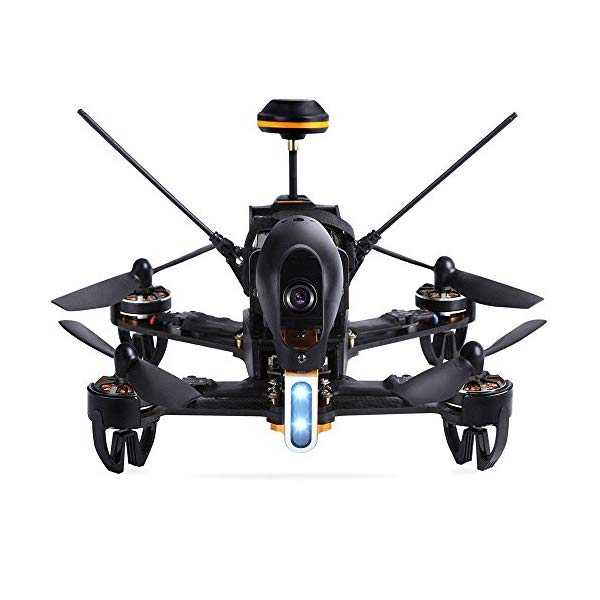 Walkera has been manufacturing drones for years, and the company has more than 30 years of experience. The F210 is one of the best examples of their craftsmanship and one of our picks for the 3 best racing drones with FPV goggles. Weighing a little over 300 grams with its battery included, the F210  ready to give you one of the most premier flying experiences.
It's designed specifically for racing and features a sleek yet rugged carbon fiber build that will stand up to you putting it through the paces. The flight time is a good 8 minutes and the drone features a 400m control range. There are 3 flight modes and it comes with a sturdy Devo 7 remote control outfitted with an ergonomic design so it feels great in your hands.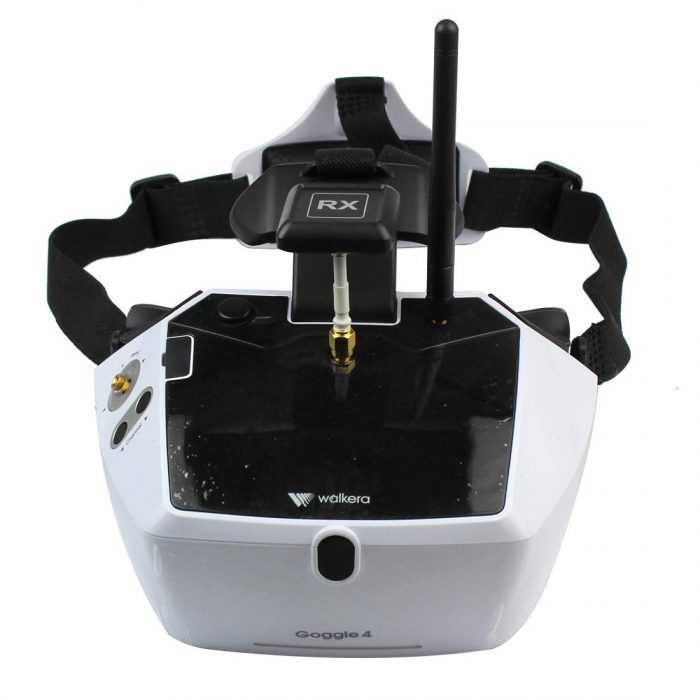 The remote includes a joystick and a button with a pleasant tactile feel. The Walkera F210 is perfect for showing off an aerial trick. It can fly nicely in darkness, and the camera is able to focus easily. This is thanks to the low-light technology built into the camera. Photosensitive sensors automatically adjust to the current brightness in the area so you can have a smooth flight at any time of day or night. Using the manual mode, you can adjust the camera angle as needed. 
You'll enjoy a 700 TVL quality and you can get images from up to 400m away. The F210 is equipped with a 120-degree viewing angle and for impressive images flight after flight, there's a 5.8g antenna for video transmission on the goggles. It ships with the following: F210 quadcopter, Dev07 transmitter, 700tvl camera, OSD, 1 battery, the charger, mushroom antenna, av wire, user manual, data line (3 pieces) and goggles. Check it out on amazon here or on the link below.
Hubsan H122D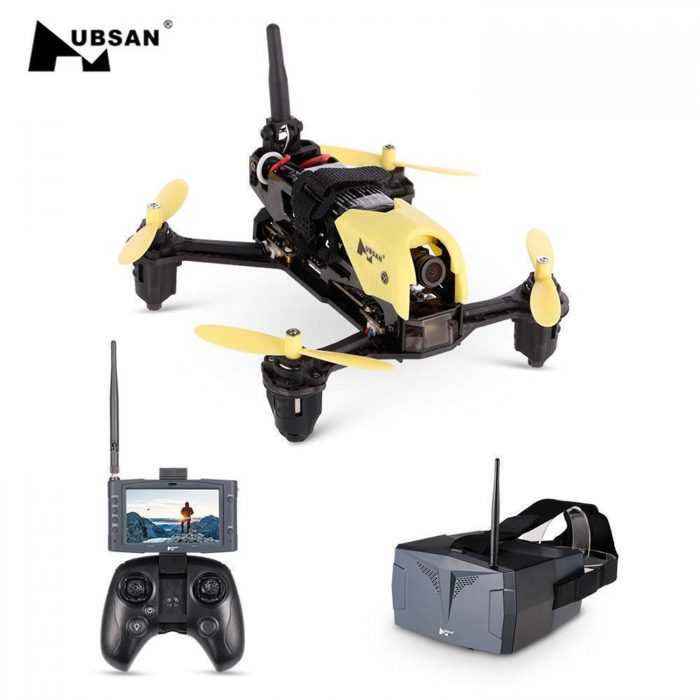 The Hubsan 122D X4 Storm is a solid racing drone that won't break the bank yet offers all of the bells and whistles you'd expect. It's a solid start for anyone looking to get started with the best racing drones with FPV goggles.
The flying weight is a great 116.5 grams so it doesn't require registration. However, it lives up to the saying that good things come in small packages. With a solid build, sturdy propellers, and a nice rigid frame, it will hold up on your flights plus offers a quick charging time of 150 minutes. The small size also makes it perfect for flying indoors, although, with such a nice camera and trick ability, you'd be foolish to not put it to the limit outside.
You'll have a maximum flight time of 6 minutes and in that time, you can easily do 360-degree flips and rolls. The 112D X4 is actually built for these tricks, and the 3D acrobatic flight mode has continuous rotation towards your desired direction.
The HV002 FPV goggles are also great quality and feature a 4.3 inch LCD screen so you see everything in clear sharp images. This is thanks to the 5.86 g image transmission and of course, the 720p HD camera. The H112D X4 in Standard and Pro editions, the Pro version includes the goggles, the Standard does not. Pro comes packaged with 4 blades, a manual, LCD monitor, goggles, 7.6v 710mAh battery, and charger. Check it out on Amazon here or use the link below.
Potensic U36D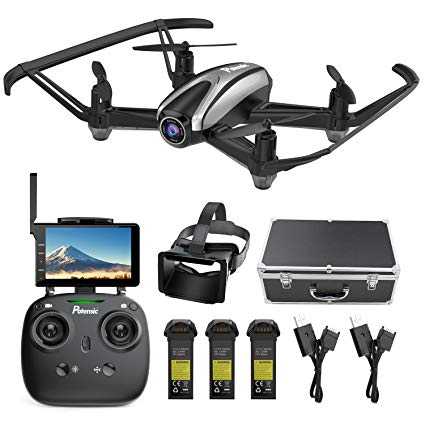 We've written about Potensic drones before and it's easy to see why. They keep making our list because they offer a smooth flight, sleek build, seamless transmission, and are just completely fun to fly. The little extra touches like the Potensic aluminum case just seal the deal.
Now, this little drone can't do flips, but if you want stellar photography and video, look no further. The U36D has 3 flight speeds: low, medium, and high. If you do crash the drone, it's built-in propeller guards will help lessen the impact, guarding against damage. There's an awesome total flight speed of 25 minutes with the 2 extra batteries; each battery offers a flight speed of around 8 minutes.
Altitude hold makes it easy to shoot images with the U36D from any angle as the drone detects changes in the air pressure. This lets it hold at a set altitude for steady flight, something that novice drone users can appreciate. The fpv goggles offer a great immersive view thanks to their 120-degree super wide-angle view lens and the 5.8Ghz 720p camera captures everything you see. You also get a great view thanks to the built-in LCD screen on the remote control. The image is streamed right to the controller.
Speaking of the controller, it features a very simple set of controls with push buttons. Even a beginner drone user will be able to pick up how to use this pretty quickly. Other great features typical of a Potensic drone are the headless mode and automatic take-off and landing. The U36D ships with the drone, 3 batteries, the VR goggles, aluminum carrying case, 2 chargers, and remote control with an LCD viewing screen.