You're probably going to be pretty impressed with the Logitech
G510s Gaming Keyboard with LCD Screen
Prices pulled from the Amazon Product Advertising API on:
Product prices and availability are accurate as of the date/time indicated and are subject to change. Any price and availability information displayed on [relevant Amazon Site(s), as applicable] at the time of purchase will apply to the purchase of this product.
For people who are still not ready to use a Mechanical Keyboard in this time and age, the Logitech G510s offers the perfect solution. It is the newest version of the original G510 predecessor which was released a couple of years ago. The current edition offers intuitive features at a budget-friendly price range. You have your usual key programing options and LUA script commands that you can define in this keyboard. However, the LCD screen on the top panel of the G510s is the real deal. I'll talk about it later. Read on… for now…
Pros:
Custom RGB programmable keys layout. Now you can pre-define your desired backlight color easily. My personal favorite has always been red for all of the backlit keyboards in my possession. However, you can go for blue and green as the best alternatives if you don't like red.
18 programmable keys for intense gaming, professional tasks or any application that requires constant multitasking.
The Logitech G510s comes with your standard 3.5 MM audio jack port. It lets you connect your headphones directly to the keyboard, while your motherboard will continue to re-route the sound via the device's inbuilt technology.
Multi key input allows for simultaneous key pressing. Now you can press up to 6 keys at the same time or in close succession to one another to execute those "secret" moves in video games.
What else is there to talk about? Oh yeah, I mentioned something about an LCD display at the top panel on this keyboard. It turns out that this display shows your standard date/time on the computer, and also some additional keystroke history for your games, etc. If you are the kind of gamer who is into bragging rights about the maximum number of keys pressed throughout the entire lifetime of a keyboard, look no further.
I have had my doubts with Logitech keyboards in the past. My Amazon order history attests to several purchases, among which there was a special Logitech waterproof keyboard. This sucker burned out on me the moment I typed down a few lines in a test document. The circuit just burned! Anyhow, I am glad that I switched to mechanical keyboards. They have higher durability, and the average number of keystrokes turns out to be in millions.
As far as Logitech G510s is concerned, it's most enticing feature is the simultaneous key press option. There have been many games, especially the ones from the fighting genre where certain characters have special moves, which require for multiple key presses at the same time. It turns out that this keyboard can be used to replace your average joystick pretty easily. You can also program specific functions into your favorite keys to make your in-game character move the way you want.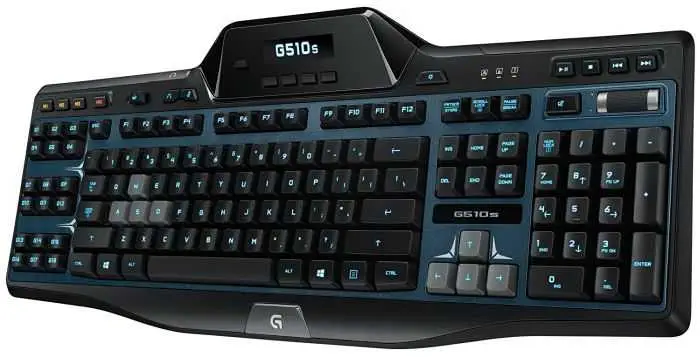 For a little over $50, Logitech G510s is a steal for the number of features it is offering. No wonder it always sells out at Amazon like hot cakes. Right now, they are out of stock – some 3rd party resellers are selling the keyboard. You can buy from them at Amazon at a slightly inflated price. However, if you are in no mood for overspending, head over to NewEgg or some other websites to buy this beauty.
TFB Latest Posts
---
---