The Ring Clock for Those Who Value Time and Style
Auto Amazon Links: No products found.
The spick n' span waterproof Ring Clock is an otherworldly invention lest you wish to settle for a conventional wristwatch. It took off as a concept design at CGSociety.Org. Evidently people liked the whole idea and the team decided to create a proper product which not only tells time, but also helps make a futuristic fashion statement.
These watches are a perfect gift idea for women and men because of the stylized unisex appearance. The Hungarian creator said that he never wore a wristwatch because of the bulky weight associated with it. At the same time, however, he wanted a portable solution that could fit the comfort of his index or middle finger. Therefore, he teamed up with a bunch of electric product manufacturers, marketing managers from the UK, and few people in the U.S. to come up with a formal business name and a fantabulous product.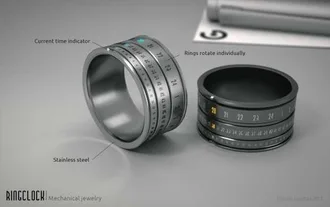 The Ring Clock comes with a $300+ price tag, and offers a minimum energy consumption green LED display, which tells time as the ring is rotated. The numeric inscriptions are highlighted as the ring is swiveled on its own axis, hence also offering a fun past time activity to those who want to interact with their watches.
This mechanical ring is complimented with 2 color options and various sizes to choose from. The product comes in a neat packaging with a very minimalistic design layout. The contents of the package include a ring watch for your index finger, a USB charging cable, a wireless charging dock and an instructions manual. You are supposed to charge the ring for approx. 2 hours before first time use. Also, you can set the time and date via wireless access for immediate personalization as per your time zone and location requirements.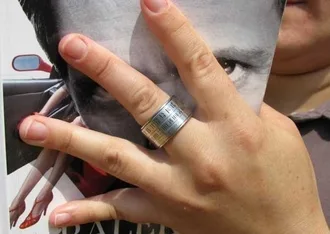 The entire range of Ring Clocks is made from industrial grade 316L stainless steel. Some of the versions are also available in aluminum build, but it significantly impacts the pricing too. The creators of this wearable time piece are already engaged in creating a "green eco-friendly" edition that won't have any batteries or direct charging source. It seems that the new upcoming edition of the ring watch will use kinetic energy to display time so that whenever the mechanical circular slab is rotated, the ring will display time without consuming any battery charge.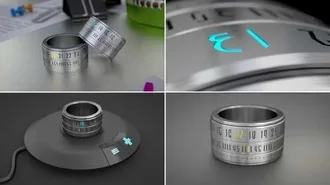 If you wish to purchase The Ring clock, you can head over to the company's official Indiegogo campaign page, or order a unit directly from the manufacturer's online store. Mashable, Gizmodo and various other online blogs have already commemorated the Ring Clock creators for their creativity. It is definitely a must-have product for anyone who wishes to get by with a smart product which is way ahead of its time by today's standards.
TFB Latest Posts
---
---