Solar Power Bluetooth Speaker will Blow Your Ear Drums for 72 Hours
Prices pulled from the Amazon Product Advertising API on:
Product prices and availability are accurate as of the date/time indicated and are subject to change. Any price and availability information displayed on [relevant Amazon Site(s), as applicable] at the time of purchase will apply to the purchase of this product.
What could be better than a Bluetooth speaker or a battery charger? Those two things fused into one. Zerolemon has the answers to your prayers with their new SolarSound Portable Wireless Bluetooth Speaker/Power Bank. Sorry international audio lovers, the gadget is only shipping to the U.S. at this time, but you should be able to get it soon.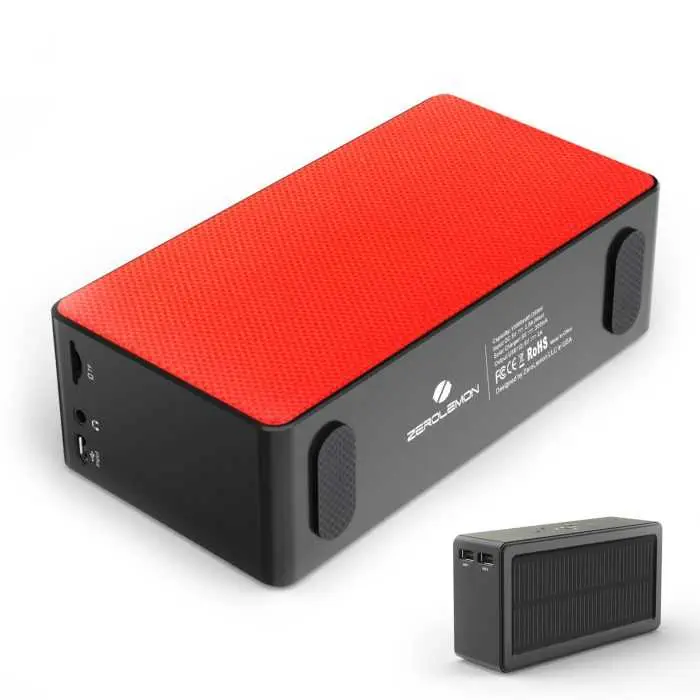 Since Zerolemon has combined two devices in one, let's start with the audio part. The speaker features an impressive 72 hours of playback without needing a new charge –the longest in the market. That alone is worth noting. Broken down by song, that's about 1,500 songs!
It's powered with its built-in 10000mAh Li-polymer battery. The sound is high-quality, with 10W stereo sound through "dual high-performance drivers." As for Bluetooth, it has a nice 32 foot away radius — this is the feature I'm most excited about, because my current Bluetooth speaker has a paltry radius of less than 30 feet.
It seems like the Zerolemon will eliminate those annoying gaps and skips that can come with other Bluetooth speakers. What's nice about this feature is that the speaker auto-connects to whatever device was last used so you don't have to keep syncing and syncing.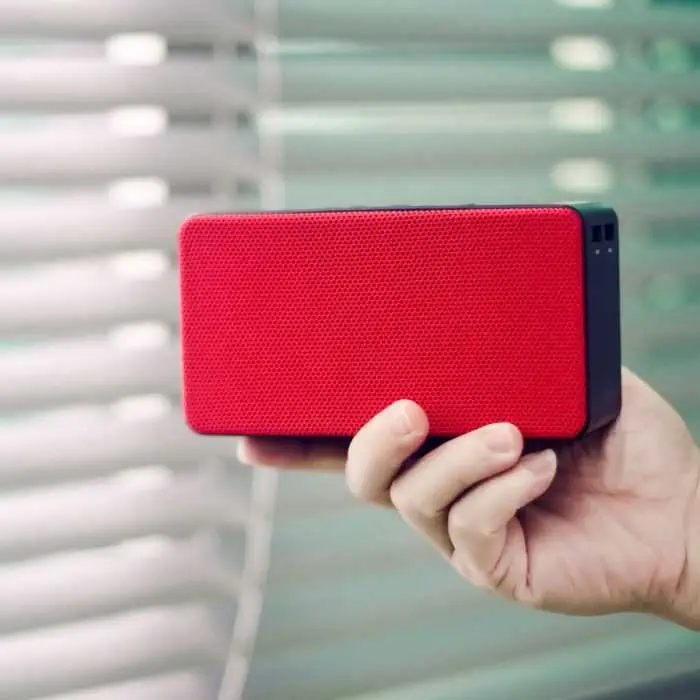 Designwise, the speaker isn't that much different from others on the market. It has a nice sleek build and comes in a black/red combination or black/black. What it has inside makes all the difference, however, thanks to the 10000mAh power bank. You can also enjoy two USB outputs that provide 5V/2A faster charging speed and it supports Aux Audio/TF Card. I love the ability to charge your phone while using it to play music through the speaker. It also looks durable enough to take to parties or outdoors, though, be warned, it is NOT waterproof.
The package comes with the following:1 ZeroLemon SolarSound Bluetooth 4.0 Speaker and 1 Micro USB Cable. It's backed by 1-year warranty and the company promises 24/7 customer support. There's some concerns about the sound if you lie it on the table or grass to charge in the sun, so reviewers recommend just having it propped up to prevent that.
I seem to constantly research Bluetooth speakers and fail to get one I like, so I'm hopeful at this new one. Perhaps in the future, they will add a kickstand to the the next generation. I once had to use a Bluetooth speakers when my car stereo was busted — I really could've used something like this!
Finally, we have to mention the price, because I was surprised at the cost. It's now $100, which is shocking compared others. No, you're spending less than $40 on this at Amazon or the maker's website. Not bad considering all of the solar packs and phone banks I've looked at can cost $40 for just that technology.
TFB Latest Posts
---
---