The Survive Outdoors Longer Origin Survival Tool has everything you need to survive that worse case scenario
Survival in the wilderness is not an easy feat, especially when you don't have the right tools with you to help you combat the elements and all the hidden surprises that lurk in the great outdoors. Good thing that there are now useful pieces of equipment that will help you make it through the harsh conditions in the wild. One of these is none other than the Survive Outdoors Longer Origin Survival Tool.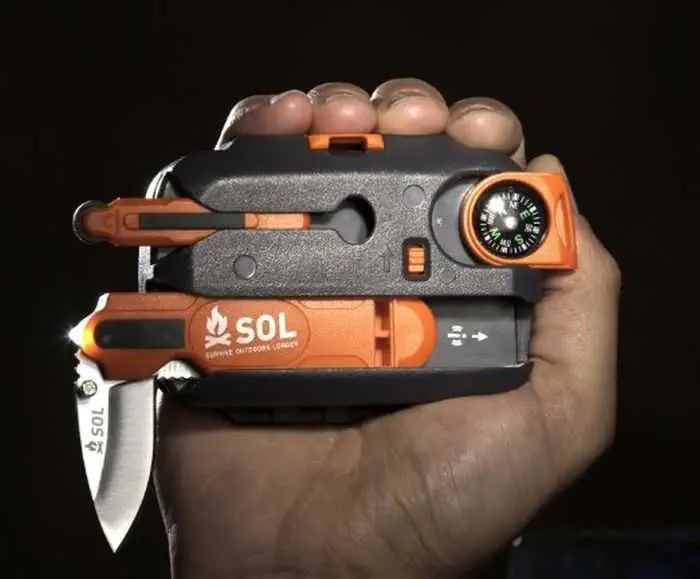 Product Overview
The SOL Original Survival Tool has exquisitely redefined the concept of survival kits from the ground up. Within a single product which comfortably fits in the palm of one hand, the Origin can give you the adequate collection of useful tools you will need to survive any unexpected scenarios and make it back sound and alive. You can consider this as the ultimate cross breed of a survival kit and the traditional ten essentials, all of which have been wrapped up into one easy to carry, lightweight and indestructible package.
The ABS plastic waterproof case serves as the very heart of the SOL Origin Survival Kit, which contains a plethora of the key survival tools such as the braided nylon cord that's 150dB test, Tinder-Quik fire starting tinder, emergency fishing, and sewing kit, and stainless steel wire that's mil-spec. For people who might not be that familiar with the idea of wilderness survival, the survival instructions of Buck Tilton, the backcountry expert, contains more than 50 survival strategies and techniques.
But, to top it all, the case's body is the very thing which sets apart the SOL Origin from the rest. Integrated into its lid is the Rescue Flash signal mirror, which is flip up and features a retro-reflective aiming aid. When you flip over the case, you will find a Fire Lite firestarter that you can operate with one hand together with a detachable liquid damped compass. Lastly, secured in the button release slot is the fully functional folding blade knife in conjunction with an ultra bright LED light and 100db integrated to the handle of the knife.
It's AUS-8 drop-point blade is designed for the precision cutting you will need, and this also excels at any job where it is important to have proper blade control.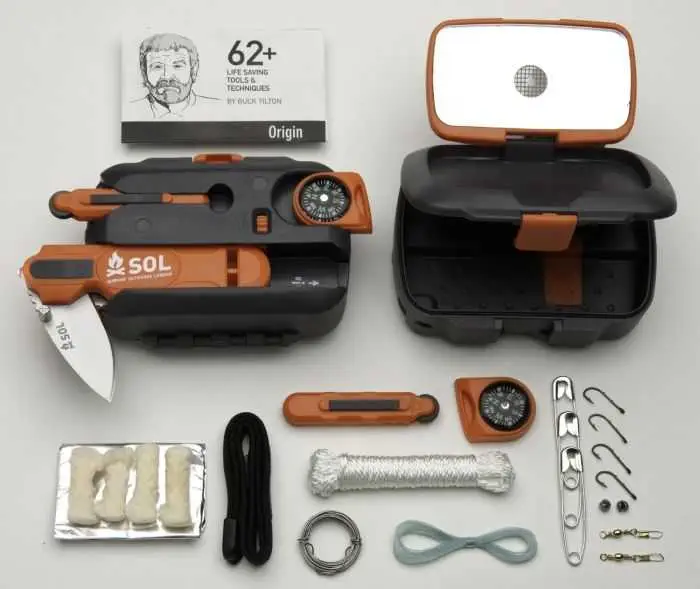 Features of the kit.
Rescue Flash Signal Mirror can flip open from the top lid and comes with 20-mile signal power

Also, the AUS 8 steel blade with a lockable liner is much harder, holding an edge longer and sharpening easier compared to standard steel

Whistle – fail safe and pea-less as much as 100db

Fire Lite striker can emit a powerful spark shower

10 lumen LED light offers a powerful task lighting

Waterproof compartment to protect your valuables

Additional 10' nylon cord, 10' stainless steel wire, survival instructions and tinder that will help you get back alive

Removable directional compass
Product details.
The survival kit of SOL Original Survival Tool includes the instructions, which feature 62 survival strategies and techniques from the Buck Tilton

Included lanyard allows you to carry survival kit around your neck

The entire kit weighs 6.25 ounces.

Also, this kit includes three safety pins, four fish hooks, a piece of fishing line, two split shot lead pellets, two snap swivels, and ten feet of nylon braided cord.

Aluminum foil may be formed into a drinking cup and may be used as a pot to boil water.

Open your case to look for a six feet piece of stainless steel wire, four pcs. Tinder Quickfire starter, a sewing needle, and a three-square-feet heavy duty aluminum foil.

Fire striker may be used with one hand and emits the powerful shower of sparks. The small liquid compass may be removed from the case.

The knife comes with a 100 db rescue whistle and ten-lumen LED light that's integrated into the handle.

The contents are packed well in a waterproof and compact case.

Flip-up signal mirror, compass, folding blade knife, and fire striker are stowed outside the case.
The amazing benefits of this survival kit.
Be Heard and Be Seen – 

Broadcast your current location up to twenty miles away with Rescue Flash signal mirror and up to a mile away with 100 dB pea-less whistle.
Whistle, Shave, and Slice – 

It's folding lock-blade knife that is made with AUS-8 stainless steel is designed for precision cutting.
Keep Your Things Dry and Safe – 

To keep each of your things dry and safe, the kit features rugged ABS hinged case.
Start a Fire Using One Hand – 

The Fire Lite sparker is easy to grip, waterproof, and easy to use. It also boasts from producing over 5,000 sparks.
Illuminate Your Work – 

Its ultra-bright LED light can be used to light some things. Its total run time is 15 hours, and there are replaceable batteries you can use.
Knowledge is Survival – 

The 62 Lifesaving techniques and tips of Buck Tilton is written specifically for SOL Original Survival Tool, and this can help you take advantage of the unique tools included in the kit.
Find Your Way Back Easily – 

Liquid-filled, removable button compass will surely help you stay on the right track.
When to use and who can benefit from the SOL Original Survival Tool.
Camping

Scouting trips

Kayaking day trips

Rafting

Paddling

Adventure or outdoor program leaders

Mountaineering

Fishing and hunting

Backpacking and hiking

Day hiking

Backcountry skiing and hiking

Backcountry guide

Avid fishermen and hunters

Adventure racing
The Bottom Line
SOL Original Survival Kit Tool more like a survival kit and multi-tool combined. This includes a variety of gear, which may be used to any recreationist or survivalist and considered as fully comprehensive when it comes to gear selection by the majority of survival professionals.
TFB Latest Posts
---
---