Bedjet Underbed Climate Control System V3
Prices pulled from the Amazon Product Advertising API on:
Product prices and availability are accurate as of the date/time indicated and are subject to change. Any price and availability information displayed on [relevant Amazon Site(s), as applicable] at the time of purchase will apply to the purchase of this product.
The other day it was 90 degrees and I was dying while I was in bed because I just couldn't get cool. The fan was above me and was on, as was the air conditioner, but bedroom gets pretty toasty thanks to a wall of windows. My spouse, on the other hand, was cold. Sleeping with a partner is like a war of temperature zones and one of you usually has to end the loser of the battle. BedJet saw this and decided to offer a solution: the first rapid cooling and heating climate comfort system you can control via a wireless remote or an app.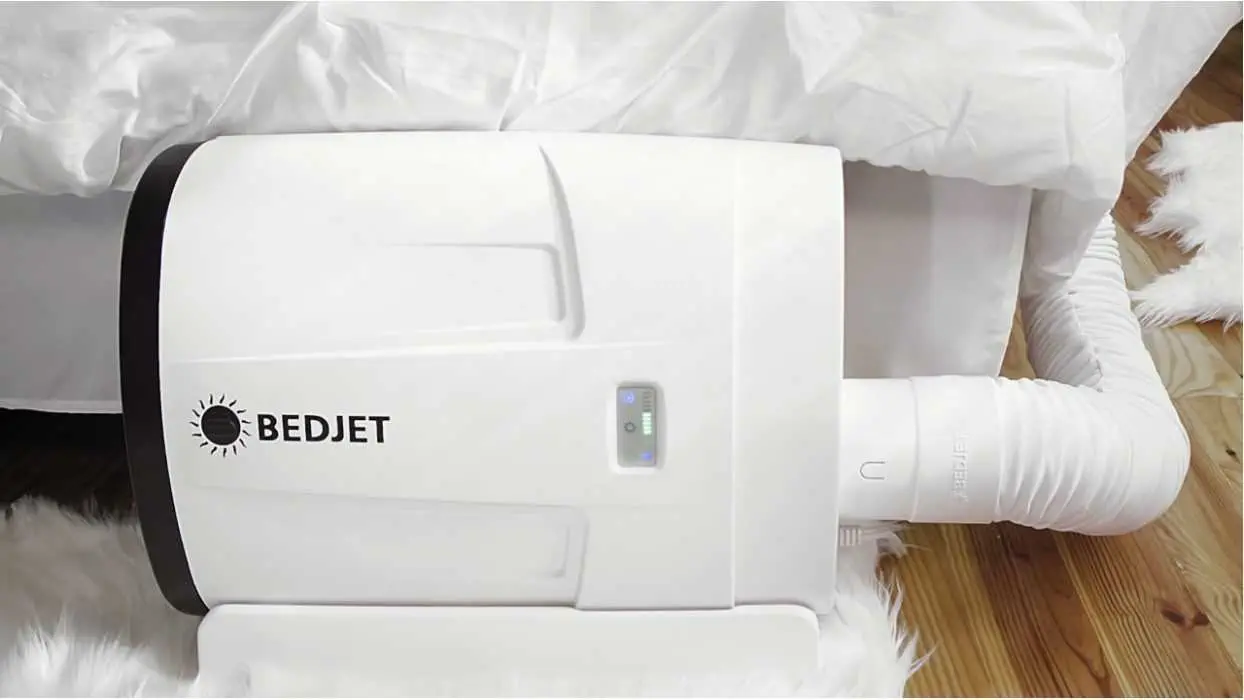 In a few words: "BedJet is a Bluetooth-enabled, microprocessor controlled, air driven climate control machine born just for your bed." It slides right under your bed frame to become an extension of your bed and deliver the temperatures you need when you need them. BedJet delivers both heating and cooling.
You just tuck it under your sheets (250 thread count are recommended) to help it guide air through the bed. It works with any size bed and uses sleep-inducing biorhythm temperature technology." The body heat and moisture is wicked out via the fan letting you sleep comfortable in just the right temperature, whether it's winter or summer or somewhere in between.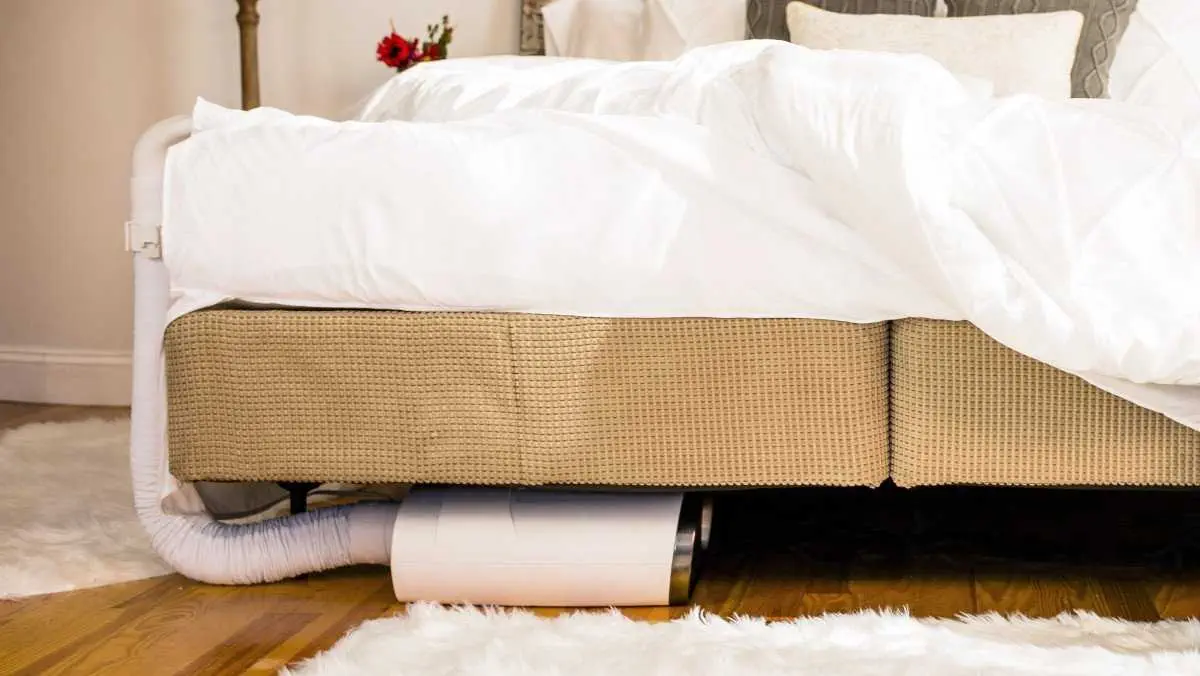 You can purchase the BedJet V3 package which comes with an attachment assembly to your bed, 1 wireless remote, and works with a Bluetooth app available on iOS and Android devices. This package is currently $299 for one unit or you can buy a special 2-unit package. The V3 Dual Zone Climate Comfort System is $729 and features 2 individual units so you can have hot and cold at the same time, 2 wireless remotes, and one AirComforter.
The AirComforter is a special comforter from the BedJet underbed climate control system features "specially-designed hollow interior flow cavities" to plug the BedJet air nozzle into. It currently comes in King and Queen sizes so you pick which one you want when you order the Dual Zone package. When the BedJet is off, the comforter looks like just a fluffy sheet, and isn't bulky like a duvet.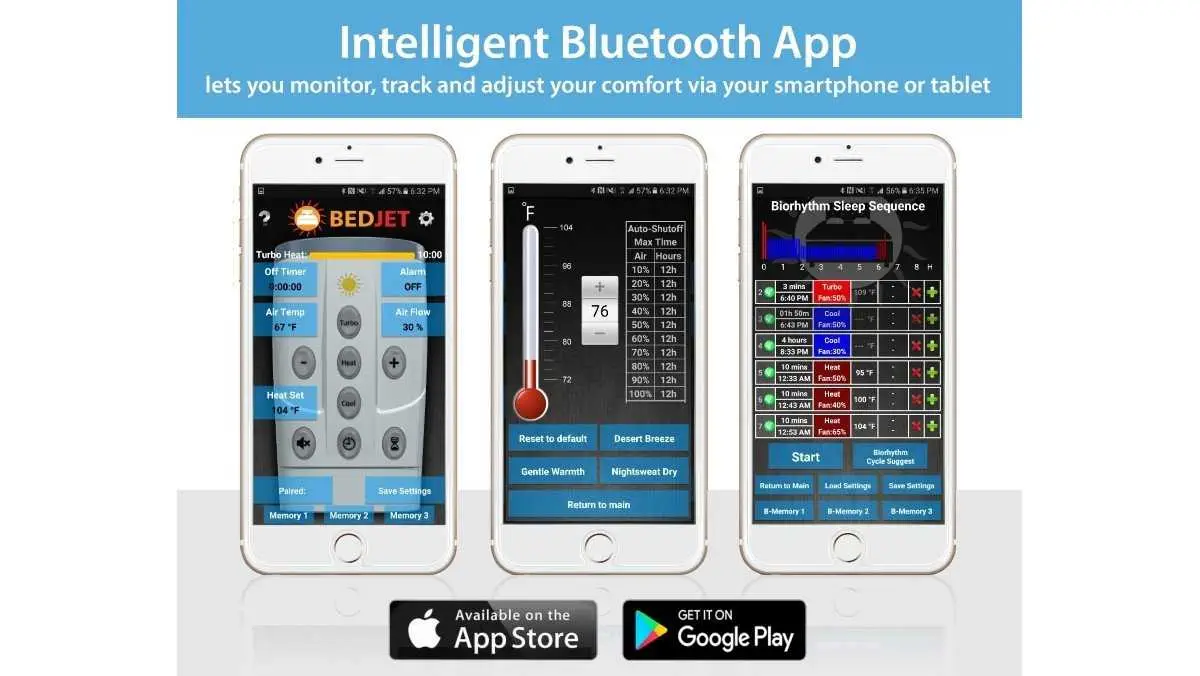 Now let's focus on the free app that the BedJet underbed climate control system uses. You can use it just like the free included wireless remote, but it also features the following features:
1) Real time display of current cool/heat mode, air temperatures and air flow settings
2) Real time display of time remaining on auto-shutoff timer
3) Real time display of remaining time allowed in Turbo-Heat mode
4) One touch memory function for recalling your favorite settings
5) Alarm function to dispatch BedJet with of your favorite memory settings at a specified time
6) Fully adjustable heating temperature and extension of heating mode to 12 hours on Bedjets manufactured after 3/2015
7) Biorhythm sleep cycle programming on V2 models
Getting the proper amount of sleep, a recommended 7 to 9 hours a night, is essential for having a healthy lifestyle. Lack of rest can affect your productivity, diet and physical activity, so sleep is important for the body to reset itself every night. So if you want good sleep… it may be smart to invest in a BedJet or you can just keep on having the temperature wars, your choice. Get one on Amazon.
TFB Latest Posts
---
---