This article may contain affiliate links. If you make a purchase, we may make earn a commission at no cost to you.
Last Updated on
Would you spend $100 on a coffee mug? What if it was an intelligent mug? The answer likely depends on how much you like coffee. Ember is the mug in question and yes, it does retail for $100. Ember is the world's first temperature controlled mug. It looks like a regular mug, but it purports to keep your drinking temperature precisely how you want it, and keep said temperature for exactly 1 hour. How? You guessed it: an app.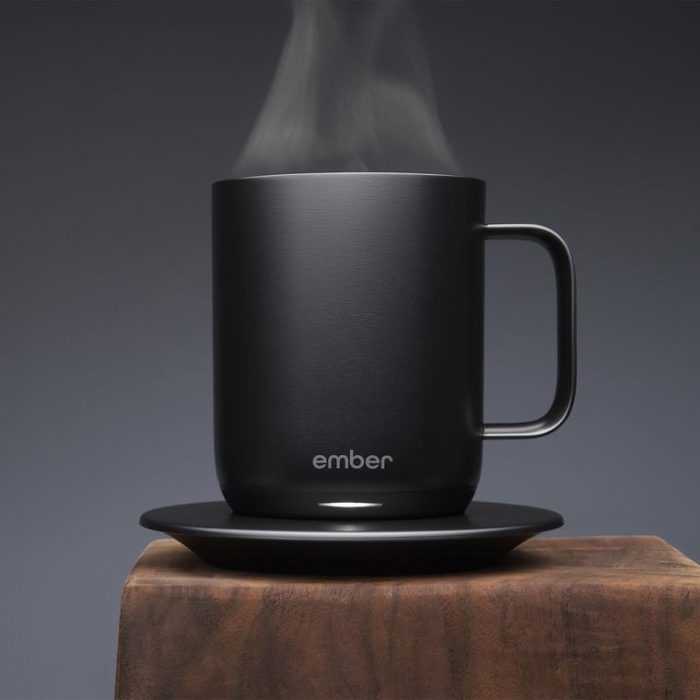 The Ember Ceramic Mug is an intelligent mug and needs the companion Ember app. The app allows you to select your desired temperature from a range of 120°F to 145°F. Ember is currently compatible with iOS and Android devices, however, the manufacturer urges shoppers check to see if their device is compatible. Once you've set the temperature, Ember "wakes up" when you pour in the hot beverage and adjusts to the last preferred drinking temperature. The app allows you to select your personalized LED color, remotely adjust to your ideal temperature, choose/save presets for different drinks, and switch between Celsius and Fahrenheit. It even syncs to Apple Health so you can keep track of your caffeine consumption…if you want to, that is. 
With a beverage capacity of 10 fl. Oz, the Ember Ceramic Mug is a mug made for the workplace or home. It currently offers a 1 hour battery life or can go all day on the included charging coaster. The Ceramic part of the name comes from the fact Ember features stainless steel with a durable ceramic coating. It goes without saying this dishwashers are a no, but it is IPX7-rated, meaning fully submersible underwater. Ember comes in your choice of black or white for the standard 10 Ceramic Mug.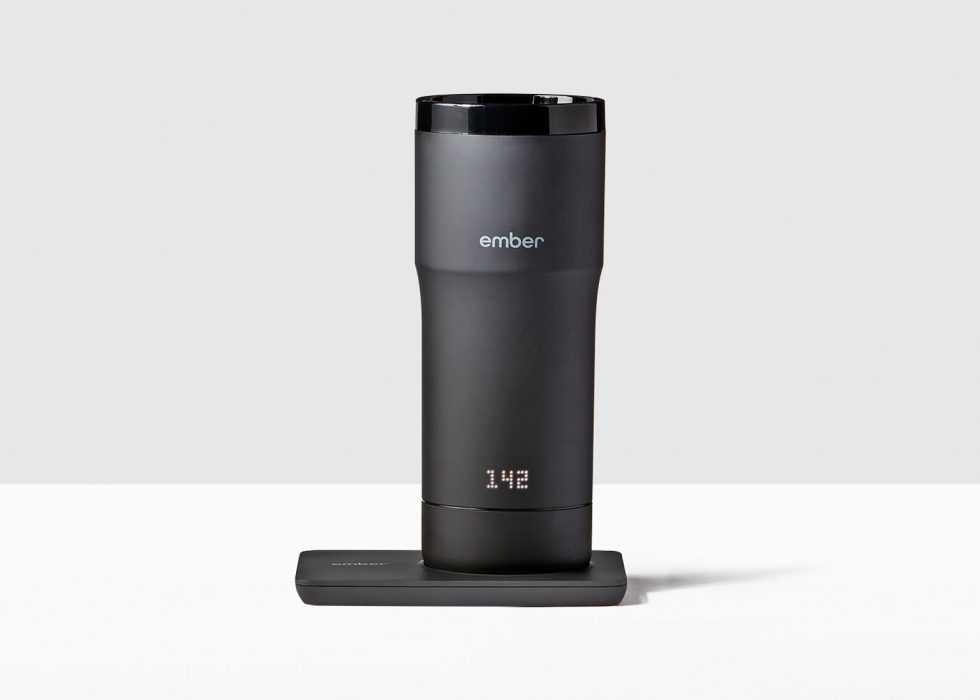 If you love traveling and need your beverages to last a big longer, then you might want to spring for the $149.95 Ember Travel Mug. The travel mug was designed for those on the go and holds the desired drinking temperature for 2 hours. It features a capacity of 12 fl oz and has the same temperature range as the Ceramic Mug. You can also adjust the temperature by rotating a dial located on the base on the mug. A digital display on the mug warns you when the beverage is too hot, has reached its desired temperature, or needs to be recharged. Ember Travel Mug ships with a 360° Leak-proof lid to make it easy to sip from any side when on the go.
Ember also has a Copper Mug edition. Sleek and modern, it's just like the Ceramic Mug, but with a beautiful copper finish for $129.95. You can also purchase a number of accessories for your Ember drinkware. Options include the 24k Gold Halo Lid ($99.95), Travel Mug Coaster ($39.95), and Ceramic Charging Coaster ($39.95).
You can purchase the Ember Temperature Control Ceramic Mug or Travel Mug at Amazon, or at the Ember websites. The products are also available at Best Buy, Urban Outfitters, and more.