Auto Amazon Links: No products found.
The Consumer Electronics Show (CES) 2019 brought us plenty to get excited about in the world of cool tech and gadgets. Held this month, the show was the place for manufacturers to get us hyped about their technology, electronics, and gadgets. The thing that got my attention in the news articles has to be the ASUS Rog "Mothership" GZ700G. It promises to take tablet gaming to the next level and looks to be a behemoth. It's no wonder everyone is getting excited about this new take from ASUS.
The ASUS Mothership was designed with the versatility and mobility of the desktop computer. It's a convertible desktop that features a detached keyboard. It has a CNC-machined all-aluminum body and offers 17.3-inch Full HD, 1920 x 1080 display with a kickstand, making it extremely portable. In essence, it's the abilites of a gaming laptop but with the power of a desktop computer. It's marketed as a desktop replacement laptop but weighs just 10.4 lbs.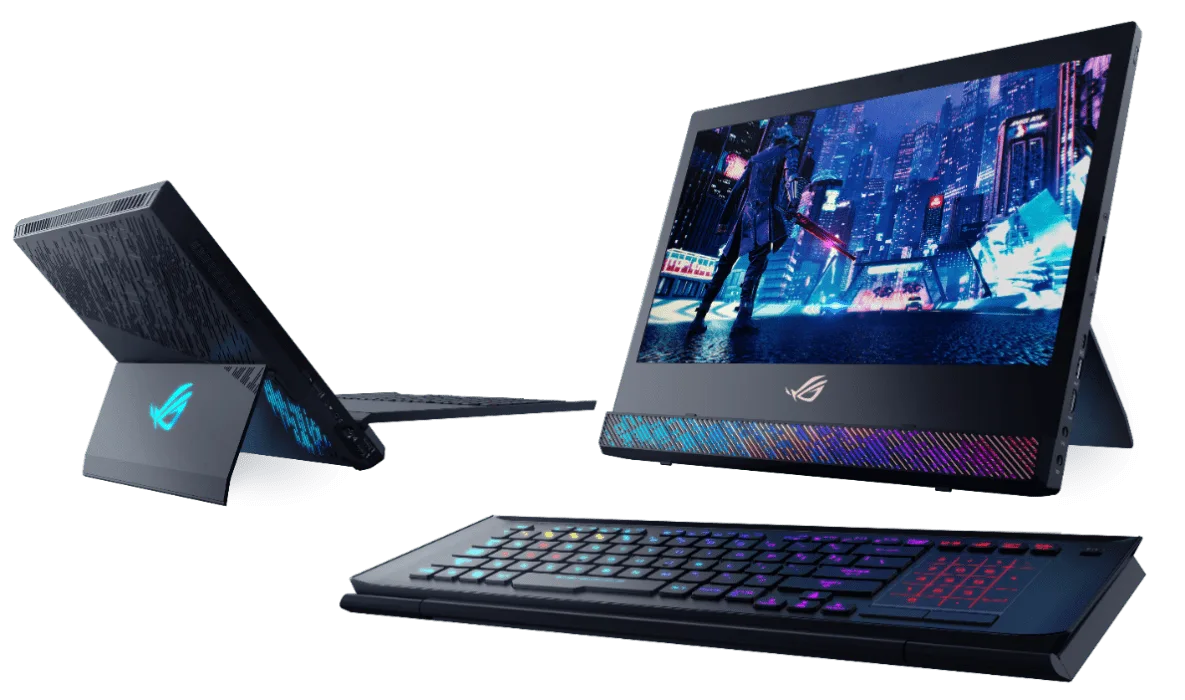 Specs include the 8th Gen Intel Core i9-8950K processor, 64GB of RAM, a trio of NVMe M.2 PCI SSD in RAID 0 configuration, a Nvidia GeForce RTX 2080 GPU with 8GB of VRAM, according to data from the show and Laptop Mag. There's also a RealTek 2.5g Ethernet port and the Intel Wi-Fi6 AX200 tech.
Asus has made some bold design choices to help improve gaming performance. They point out traditional "laptops limit cooling thanks to their design, but the Mothership helps you with the innovative standing design." The chassis gets appropriate airflow and cooling, while the stepless hinge allows you to choose how you want it to stand. On board are 375 fins quad heatsinks, 8 heatpipes, and anti-dust self-cleaning fans.
The detached keyboard connects via Wifi or wire, and folds up for easy carrying. You can also attach your own preferred keyboard. When playing on the Mothership, you can enjoy three angles thanks to the Kickstand, making it easy to game in most conditions.
Of course, gamers want to know how everything LOOKS and the answer is great. Images appear gorgeous on the IPS-level display and the HD features 3m response time for fast-paced games. You also get the option to use the ROG software switch between modes with G-Sync or longer battery life with Optimus so you can game how to you need.
Another impressive quality of this laptop is the sound. Mothership has been engineered to aim audio right at you. There's 4 speakers along the front edge and they feature ESS Sabre HiFi DAC with Hi-Res Audio certification. You can amplify sound easily without destroying the speakers, and virtualization simulates surround sounds for headphones and VR headsets.
ROG's  Armoury Crate is an included system software that lets you tune and personalize the system to your own needs in one place You can have up to 4 game profiles, and and you'll get a look at everything going on the in the ystem, including memory, storage, fan load, and more. Armour Crate comes with a free companion app available for download for Android or iOs devices.
The laptop will be available for sale soon for just  under $7k.
TFB Latest Posts
---
---