Serious PC gamers will appreciate the
Acer Predator 21 X Gaming Laptop
For a $9,000 laptop, one can expect anything within the realm of gaming and professional work. Although, at this price, there are hardly any "professionals" who'd put the laptop's raw power to actual office assignments, but you can't say much. People and organizations who buy such laptops are a rare breed. As much as they do want to show off their new possession, they don't do that much.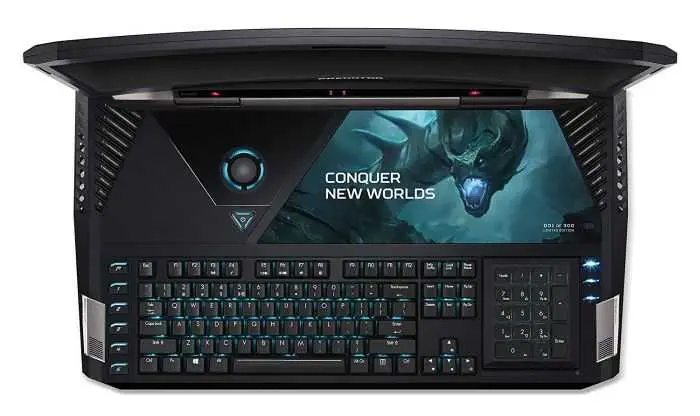 One reason is privacy factor. You don't want someone to steal this laptop while it's lying around on a coffee table, and you are off taking a leak in the men's restroom. Secondly, these laptops are restricted to office and personal use. Once someone buys them, these expensive units don't see daylight unless they are headed for repairs or returns.
On a funny note, I heard that many gamers traded their kidneys to buy this laptop. Others, who couldn't afford it, lamented the ridiculous pricing and made fun of this specific model at Amazon. You have your typical fake reviews with mentions of Minecraft and Solitaire running at 500 FPS. Ha haa haa, no one's laughing.
Acer made the Predator GX21-71-76ZF for a very special reason. Let alone the expansion bays offer a huge window of opportunity to those who wish to invest in a laptop without worrying about replacements or returns in the near future. With this little puppy, you can look ahead at two years of carefree gaming, movie marathons, and brutal graphics design work. Ain't no 3D rendering too difficult for the Predator to execute. All it takes is a huge chunk of your savings, and probably a constant tantrum from your wife, but it is worth it.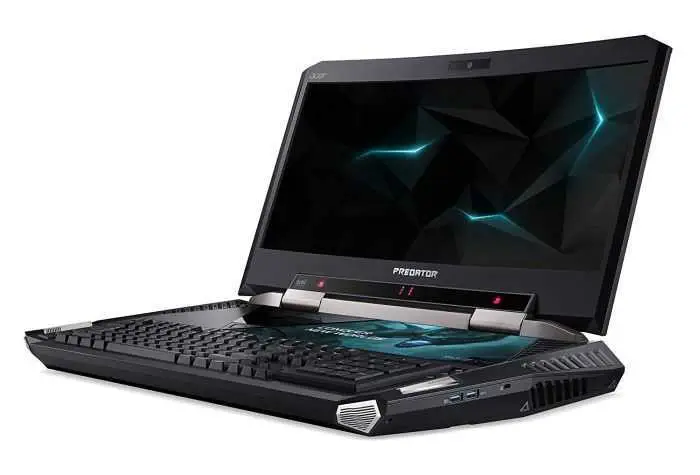 Acer Predator GX21-71-76ZF Specs:
i7-7820HK CPU. When overclocked, it goes up to 3.9Ghz without any reported temperature issues.

2x Nvidia Gtx 1080 graphics cards totaling at 16 Gb combined dedicated video memory.
21 Inch curved HD screen with Nvidia G-Sync technology.

64 Gb DDR 4 RAM, 2 SSDs @ 512 Gb each, and a separate 1 TB hard drive.

Tobii Eye Tracking software for focus assisted screen viewing.

Custom Predator series suitcase style carrier with a sliding handle on it.
For graphic designers who have to count on sophisticated renderings and extensive processing, this laptop is a blessing in disguise. Especially if you are running a research project on Mat-Lab facial scanning, or something similar, I can guarantee that the GX21-71-76ZF has the power and tenacity to minimize processing times.
How so? I had a friend who was developing and testing his facial recognition software for a university project. He wanted a laptop powerful enough to assist him with image processing. The guy ended up buying an Asus laptop because this all happened 2 years ago, but he would have bought this model if it was released a bit earlier.
One of the latest features in terms of hardware advancement is the addition of curved screen in the GX21-71-76ZF. I have reviewed a few other laptops from MSI and Asus within $6,000 – $8,000 range. They did not come with a curved screen. In this sense, Acer has taken a big leap towards something that is not very common for mobile solution computing.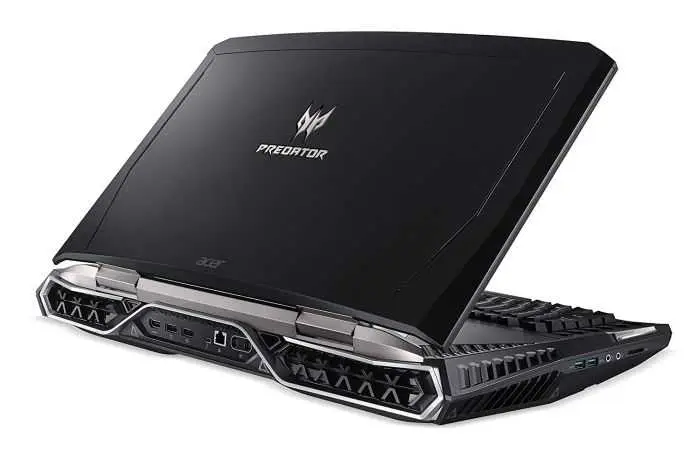 And that is not all; the trackpad on this laptop can be flipped over to access the numerical keypad underneath it. It is a pure stroke of genius because they added additional keys within the same allotted space on the keyboard. Apart from the intimidating physical appearances, this model comes with dedicated heat dissipation channels.
You will be able to see metallic heat ducts at the back side of this laptop. These heat vents give way to all the extra heat which accumulates during intense graphics processing or hardcore gaming sessions on the GX21-71-76ZF. Furthermore, the laptop itself weighs in around 20 Lbs. You can't place it in your lap or on your knees because of the weight and size dynamics of this beast. Therefore, a portable table will be the best option in this case.
As of now, there haven't been any reported hardware or software issues for this specific model. Not a lot of people own the GX21-71-76ZF. Those who do have this model with them, they have not taken up with Acer officially. Nonetheless, Acer is offering full-time customer support alongside an active returns and replacement program at Amazon. In case you are interested, check out their sales page for the Acer GX21-71-76ZF at any of the popular online retailer websites.
TFB Latest Posts
---
---